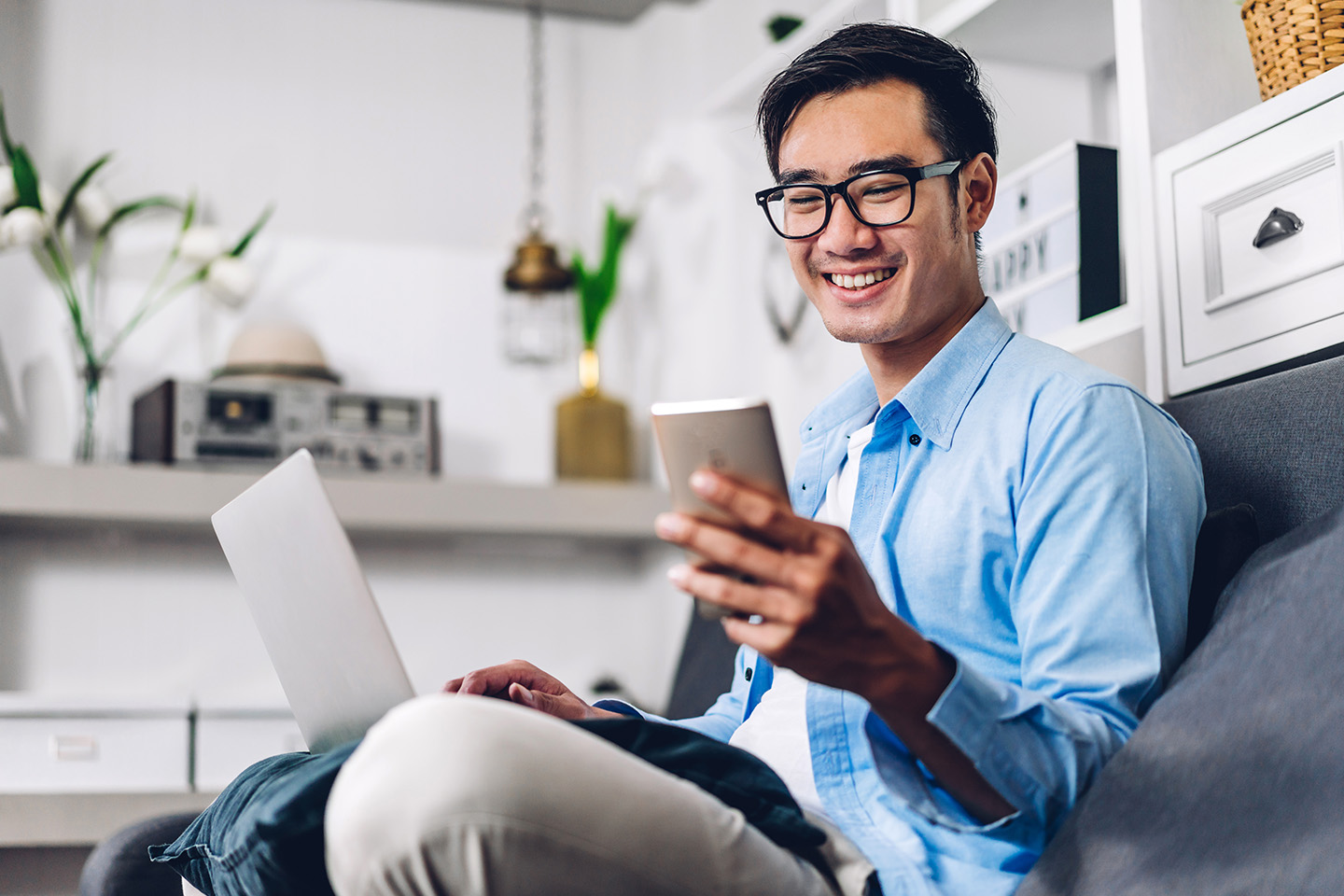 View, save and grow your finances with budgeting apps
The key to financial success could be in the palm of your hand
Lucia McCabe February 2021
Managing money isn't easy, but the key to success could be through the one device you can't live without – your mobile phone.
Over the past few years, we have seen huge growth in personal finance apps, budgeting tools and investment platforms that offer a simplified and on-the-go way to view your finances, track your spending, save or invest.
No matter what you want to do with your money, we have compiled some great personal finance apps suitable for any financial journey.
Budgeting basics
Long gone are the days when you had to sit down with a pen and paper and write out incoming bills and outgoing expenses. A long and laborious task that didn't offer much inspiration.
Now, thanks to budgeting apps, you can effectively manage your money digitally and, most importantly, get a real time view of your financial position without having to manually input and sort through everything.
If you are at the beginning of your financial journey and want to make small steps towards success, consider PocketSmith or BoosterNZ as the first apps to help you reach your goals.
PocketSmith, is a personal finance software solution and mobile app that helps track expenses and keeps a record of your finances. With three levels of membership (basic, premium, and super), PocketSmith offers varying degrees of access to its tools and features. Using the mobile app, you can categorise all your spending, making it easy to view and assess all recent and relevant transactions.
Booster NZ, gives you an on-the-go snapshot of your finances, helping you to stay on top of your budget or goals. From keeping tabs on your bank accounts, assets and KiwiSaver, you can easily view the progress of your financial journey.
Savvy saving
If you're already on the road to success, and are regularly managing your money and sticking to your budget each month, you can take the next step towards bigger financial commitments, such as saving for a dream holiday. Having an end goal to aim for can sustain your focus and keep you on track.
Sorted.org.nz is a government funded website with personal finance advice and a range of savings tools. With the savings calculator, you can add in how much you plan to save each week or month and get an overview of your savings over time. You can also add a start date, end date and goal into the calculator to find out how long it will take you to save a sum of money.
The retirement planner lets you view whether you're on track for the retirement lifestyle you want. By adding in your retirement age, how much you need to retire and reviewing your KiwiSaver and other income, you can get a glimpse of your retirement future.
Growing your wealth
For Kiwis who are just beginning to grow their investment portfolio, there are a number of available sites and apps that can kick start your journey in KiwiSaver, managed funds and term deposits.
InvestNow is an online platform that can help get you started and offers the ability for Kiwi investors to begin a new financial journey.
As an accomplished investor, it can be difficult to keep track of all your investments, make sure your strategies are going to plan and work out where your next move is going to be.
ShareSight is a tracking and reporting tool developed for anyone who owns investments and wants to understand how they are performing. Investors can keep track of their assets by importing their trading history, receiving automatic updates and exporting performance reports.
No matter what stage of your financial journey you are at, finding the right budgeting app will provide you with control and structure to your finances.
What is a personal finance app?
Designed to help you at all stages of your financial journey, personal finance apps are the easily accessible, on-the-go way to track your spending, create savings goals and grow your income. From basic features to upgraded tools and calculators, there are many apps available for you to choose from.
How much does a personal finance app cost?
The cost of personal finance apps will depend on the level of services and tools included. Many are free of charge with options to upgrade to basic, premium or expert plans. Monthly fees can vary from $10 to $20, with discounts if you pay yearly. Don't forget, some apps or online sites will have in-app charges, so it's important to always read the terms and conditions before signing up.
How do I choose one that's right for me?
Consider what you will be using the app for and how often you will be using it. You might find you only need basic access to give you an overview of your spending, or alternatively recognise you need more assistance and guidance and opt for a paid app.
The opinions expressed in this article are the opinions of the author(s) and not necessarily those of Resimac. The above is general commentary only and is not advice tailored to any individual's financial situation. We recommend seeking advice from a finance professional before implementing changes relating to your finances.
Back to top