Want to know how to double the return on your reno investment? We talked to Peter Wolfkamp to get his double dollar kitchen redo tips.
Double your reno return with Resident Builder Peter Wolfkamp
Gabi Selwyn September 2020
Getting that top dollar price for your property at sale time sometimes requires you to spend money to make it.
While most home upgrades will boost a property's value, you can't beat a kitchen renovation in terms of getting real bang for your buck when you sell. A thoughtfully renovated kitchen will capture a potential buyer's heart and head because you've done all the hard work for them.
However, not all kitchen renovations are equal. We spoke to everyone's favourite Site Foreman from The Block NZ, Peter Wolfkamp, to get his recipe for kitchens that more than pay for themselves.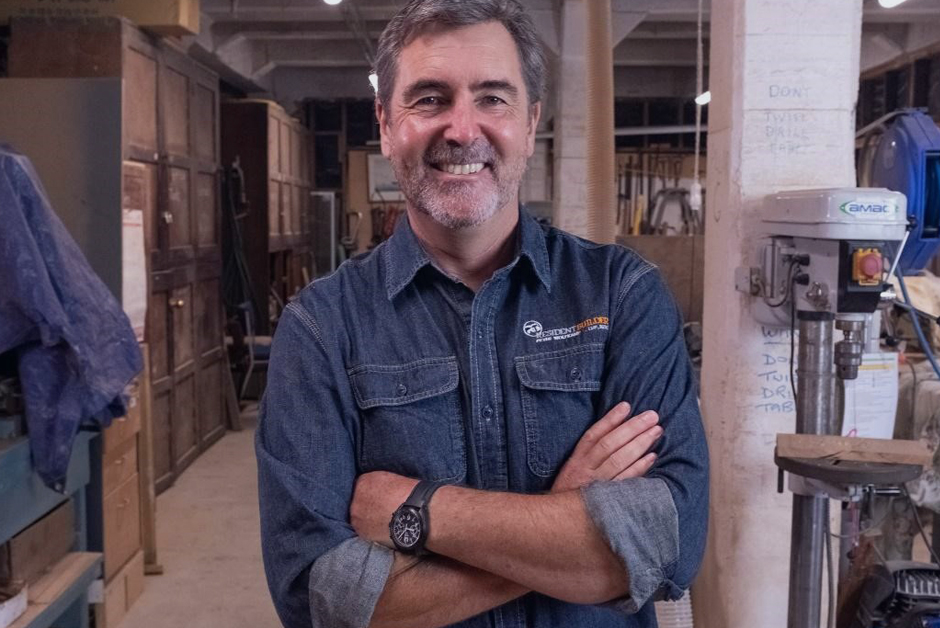 We chat to Resident Builder Peter Wolfkamp, also known as the Site Forman from The Block NZ, to double your investment dollars with a kitchen remodel.
Match your budget to the property
The first rule when remodelling a kitchen is to set a budget and stick to it, but how much should you spend?
Spend too little and buyers may be concerned they'll need to undertake their own upgrades to bring the space up to scratch; while overcapitalising will leave you with a kitchen that doesn't belong to the home and might leave you in the red.
Experts say a good rule to follow is the 5-15 per cent principle. Using these guidelines, the lowest your kitchen renovation budget should be is five per cent of the total value of your property, and the most is 15 per cent. For example, if your home is valued at $500,000, your budget should be no less than $25,000 and no more than $75,000 to ensure you see a return on your investment.
"The property developer's rule of thumb is that for every dollar you spend, you should earn two," says Peter.
"So basically, if you invest $25k into your kitchen reno, you should be able to add $50k to the re-sale, provided you make smart choices along the way."
Practical beats pretty
It can be easy to get carried away thinking about stone benchtops, farmhouse sinks and European appliances when starting your reno, but according to Peter, buyers will run a mile from a dysfunctional kitchen layout.
"You can't go past the 'golden' or 'kitchen triangle'," says Peter, who tells us this advice is based on the long standing theory that the three main work areas (the sink, fridge and stove) should form, you guessed it, a triangle.
With a natural harmony between the three key work areas sorted, Peter tells homeowners to make smart functional choices.
"Benchtops are often the focal point of any kitchen, but your selection needs to be durable, too. Soft close drawers and choosing drawers over cupboards under your benchtop will also seriously impress buyers," says Peter.
Keeping your costs in check
If your budget only allows for a refresh, a few simple changes, like painting or new doors and fronts, can make a huge difference to the look of your kitchen.
"I'm currently working on a home and focussing on a cabinetry makeover – whether it's replacing the cabinetry for a whole new look or just a paint job, this can really spruce up the space," says Peter.
If you are going for a full renovation, taking the time to find the right builder will also be key to maximising your dollars.
From highlighting where you could do things yourself, to showing you multiple options in your price point, the right building partner will work with you to achieve your goals at a price you can manage.
Builders can also give you ideas on the most desired kitchen features among homebuyers, as well as tips on how to achieve the look you want in the most cost-effective way possible.
Choosing to do things yourself can also extend your budget. From painting to installing new handles on cabinetry, some simple fixes can be worthwhile to master yourself.
"Kitchen renovations don't have to be too complicated or expensive," says Peter.
"Focus your energy on practical upgrades that look good and are functional. Lastly, don't forget to use a neutral colour scheme to ensure your property has a broad market appeal to really bring in those dollars when you sell," concludes Peter.
The opinions expressed in this article are the opinions of the author(s) and not necessarily those of Resimac. The above is general commentary only and is not advice tailored to any individual's financial situation. We recommend seeking advice from an insurance or finance professional before implementing changes relating to your finances.
Back to top